Bespoke Custom Wine Racks to Match Your Lifestyle!
Alpha Closets is the #1 Northwest Florida Company, provides a comprehensive range of high-quality custom wine cellars and wine racks solutions— customized according to your needs. 
Proper wine storage is necessary, especially if you have a premium wine collection. Invest in a proper wine cellar if you have space to store it, and let it mature!
At Alpha Closets, we are highly passionate about wine and making sure it is stored properly. Our expert carpenters and designers are certified and have garnered years of extensive experience with cellar and rack construction, making them highly qualified to help you design the exquisite space of dreams for wine storage. 
We build wine racking systems on demand, ensuring they are well custom-built, better quality, and within the tighter timeline. 
Just look at our beautiful premium wine racks portfolio by clicking here.
Custom Wine Store Rack for the Wine Lovers
Alpha Closets is known for offering the highest level of custom-built wine rack services, using the finest quality materials to provide bespoke storage solutions tailor-made for a wine cellar. Our experts always ensure that your wine storage solution will permanently preserve wine or champagne for generations no matter the material used, whether wood or metal. 
We are experienced in building custom wine racks to suit varied interior styles and wine collections. Let us help you create a lifetime experience!
Affordable Wine Rack Systems
We use a wide range of materials, from solid oak to solid pine, wood to metal; you can have the traditional wine racks to store standard 75cl wine bottles and Moët style champagne bottles.
For Bollinger, Krug, or Dom Perignon champagne bottles, we manufacture top-notch quality special champagne racks, explicitly designed to suit the perfect rounded bottom shapes. Rack building consideration also needs to be given whether wine storage will be required for magnum or half bottles and what sort of quantities will be required.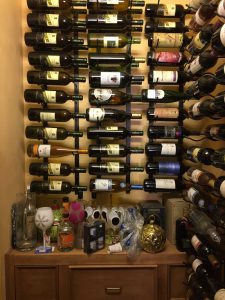 Experts at Your Service
Custom wine cellars could be challenging to design, configure, and navigate, and this will require brilliant support and advice throughout the set-up process. Luckily, Alpha Closets is here to provide you with all the necessary information and guidance, keeping in mind your furniture theme.
Let Alpha Closets Design Your Wine Cellar
Let Alpha Closets wine cellar engineers draft a mesmerizing custom layout for a home or commercial wine cellar. Custom, modular red rack with metal wine racks for an elegant modern look are available. If you like us to design a wine cellar for you, then get in touch with us now, and discuss your project.
Anything else can be done on demand!
Alpha Closets— Custom Wine Cellars Design Experts
We create a 3D wine cellar design for maximum wine bottle storage in your space. Alpha Closets' skilled designers are amazingly skilled and consistently surprise the valued clients by providing outlooks on their projects. Our construction experts with a shop will be ready to assist you with their tools and machinery and effortlessly transform the most technical schematics into jaw-dropping reality.
Designing wine cellars with elegant metal racking typically means sectioning the space with 13-15 inches columns. We carry a range of metal wine racks from single bottle holders to threefold bottle racks.
You can have a wall peg wine racking system, as it's trending! The peg system is based on two metal pegs when place in a cellar wall just a few inches apart to store a premium wine bottle parallel to the wall. The boards can include stainless steel, acrylic, colored facings, etc.
Select Right Positioning
While deciding on having a wine rack, you should always choose the right to store wisely and properly. There are a couple of chic styles to select from, in which stacking, wall mount, and side mounts are the trending ones. With that, always pay attention to the size range from storing some bottles to a whole batch. You can have many variabilities and designs, depending on your storage and aesthetic need for space.
You can go with two options: horizontal racks and vertical ones. Although vertical racks are not the right choice for storage, the cork will get dry easily and start shrinking. But this positioning works well when you are thinking of storing wine for a short time or is best consumed fresh.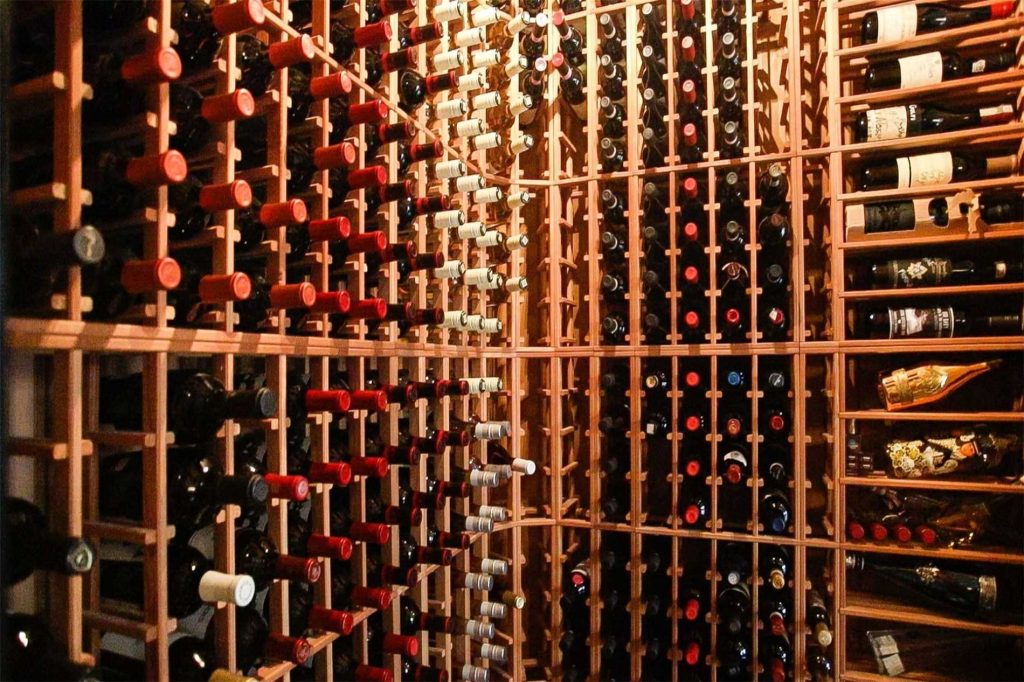 Avoid Titled Racks
Titled racks are there and should be avoided at any cost, as they can easily dry out corks or even can deposit sediments much close to the wine cork. Horizontal racks are the best for fulfilling wine storing needs. The reason is, this positioning keeps the cork moist and eliminates unsolicited air from making contact with your wine. 
The most typical materials include wood and metal. You can easily hang them from ceilings, stand them on your wall, or place them on the floor. Although the wood looks elegant and provides enough space, metal ones are the strongest and tough. With that, wood racks are durable and much more appealing. 
A custom wine rack is one of the most significant investments. There are multiple rack sizes, designs, and other stuff to choose from, and everything is affordable. If you want the one for home, then medium to small size one would work fine, and if it is for some commercial settings, then surely go with the big styles. 
So no matter where you always keep your wine collection, you can depend on a top-quality rack to keep it stored for years. 
Frequently Asked Questions
How much Natural/Artificial light do you need?
The best answer is to keep it as dark as possible; a cellar should not be exposed to sun rays as UV rays can affect the quality of the wine. 
What is the optimum humidity of wine storage?
Humidity is another crucial factor to consider, as if the cellar is too dry, the corks will definitely start to dry out and sometimes crackle, which releases oxygen into the bottle. Similarly, if the cellar is too humid, the bottle labels can spoil easily, and in severe conditions, the fungus can start growing. The best option is to use air conditioning. 
 

What's the optimum temperature for wine storage?
Undoubtedly, the temperature is the most critical factor, and it ultimately affects the longevity and quality of the wine. The ideal temperature should be between 10 and 14 degrees Celsius, with small variations in temperature that could occur throughout the year.
How to organize a wine rack?
A rack should avoid vibration as it could be dangerous to the long-term aging of the wine. The vibration will also affect the taste, texture, and overall quality.