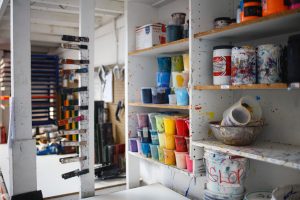 Garage storage systems can help you maximize your garage space without sacrificing floor space. Some of these systems have built-in shelves that can hold any kind of storage items, from small tools to totes. They have adjustable heights and are easy to install. If you want a system that can be adapted to various-sized spaces, you can buy shelves with S-hooks that provide perfect hanging hardware.
Garage storage systems may also include a motorized lift that can lift heavy storage bins. These systems are available in a variety of colors and can be customized to fit your garage. While choosing a storage system, keep in mind that you need to measure your space. A professional will take measurements and recommend the best storage system for you.
Garage storage systems can also be built into ceilings. These systems are great for keeping long items out of the way. For example, a ceiling-mounted rack can hold up to 600 pounds. These racks are popular among home organizers like Pia Thompson, who recommends installing ceiling-mounted storage racks for your garage. This system also keeps items out of the way while maximizing available floor space.
Garage storage systems are a great way to transform the look of your garage. Wall-mounted racks and shelving units are also great options for organizing your items. They will keep your items off the floor and make your garage appear cleaner. Wall-mounted systems will also help you utilize unused space. Once your garage is organized, it will be easy to find what you need.
Garage storage systems can be as simple or complicated as you want. You can purchase or make your own storage systems. One popular solution is a stack of large plastic storage bins. These can be used to store all types of items. They also double as recycling bins, and they can be stacked for maximum space efficiency. The best part is that these systems are easy to install. They can also be customized to accommodate different sports. If you want to get creative, you can make your own garage storage systems with a few DIY materials. Click for more info
There are several types of garage storage systems, and most are available for under a thousand dollars. Prices vary depending on the complexity of the system and whether it needs to be installed by a professional. Professionals charge $55 to $75 an hour. They may also charge more if they are custom-designed. You can also save money by installing these systems yourself or consulting with a handyman in your area. Check it out here
Garage storage systems help you make the most of your garage's space. These systems can help you organize your tools, garden essentials, and holiday decorations. These systems offer structure and organization while eliminating clutter. They can even give you more space in your garage to work. If you have a garage that is filled with useless stuff, it may be time to consider adding garage storage systems to your garage.