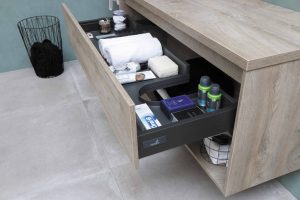 Whether you're building a custom kitchen or just want some extra storage space in your bathroom, there are a variety of different types of custom cabinetry to choose from. These types of cabinetry are great for maximizing the space in any room. They can be built to fit your needs, ranging from simple storage to fully custom built-in entertainment units. You can even add shelving, drawers, and even built-in desks to fit your particular needs.
There are three main types of custom cabinetry: built-in, semi-custom, and freestanding. Built-in cabinetry is often installed in kitchens and bathrooms, but can also be used in home offices, entertainment centers, and more. Freestanding cabinets are typically larger and fit into any room.
The biggest difference between custom cabinetry and stock cabinetry lies in the quality of materials. While custom cabinets will cost you more money upfront, they will be more durable and last for a longer period of time. Some of the best features of custom cabinetry include "soft-close" drawers and doors, which prevent cabinet doors from banging shut and drawers from bouncing. They can also be customized to fit into any space, including corners.
Frameless cabinetry is another type of custom cabinetry. This type does not have a face frame and has increased storage space. It lends itself to modern or contemporary styles. Partial overlay cabinetry, on the other hand, has exposed face frames and is generally found in traditional kitchens. If you're looking for a modern and contemporary look in your custom kitchen, frameless cabinetry may be the best choice for you.
Custom cabinetry is available for both business and home settings. They can be designed to fit your exact needs and budget. You can also choose the materials, style, and hardware for your cabinets. You can choose from wood stains, veneers, metals, and other materials to create the look you want. Custom cabinets may also come with features like soft close hinges, baker's drawers, and custom drawer systems. Browse next article 
While stock cabinets are less expensive than custom ones, they are not as customizable as custom cabinets. Custom cabinets are typically built on-site in a carpenter's workshop. This type of cabinetry requires a skilled carpenter to install them. If you choose a custom cabinetry option, you can rest assured that it will be made to last. The cost of a custom cabinetry installation is much higher than buying and installing ready-made ones.
Semi-custom cabinets are an intermediate choice between custom and stock cabinetry. Although they are not built until the order is received, they offer greater flexibility when it comes to design and size. Semi-custom cabinets are a good choice for many projects and often come with a lifetime warranty. However, they may be more expensive if you want to make adjustments to the interior of the cabinets or change the cabinet's design.
Semi-custom cabinetry can range in quality and can be just as customized as a custom cabinet. The difference in quality is often based on the way the cabinet is made. Semi-custom cabinetry is midway between custom and stock cabinetry, and the cost can sometimes exceed the cost of custom cabinetry. However, it is still important to get a custom quote if you plan to make any major modifications.
Distressed cabinetry is a great option if you want an antique-style kitchen. You can get distressed cabinets from most manufacturers. These cabinets are available with a rubbed-down surface or other distressing techniques. However, this option increases the risk of errors that can cost you money. Additionally, you won't have as many options.
Another popular choice for custom cabinetry is maple. This wood is hard and durable. Its natural light color makes it popular with woodworkers. However, it can also be stained to create darker-looking cabinets. Maple is also quite inexpensive, making it an excellent choice for busy areas of the house. You can choose from both maple and oak to create your custom kitchen.
There are three main types of custom cabinetry: stock cabinets, custom cabinets, and mass-produced cabinets. Stock cabinets are manufactured in factories to a minimum standard and are available for purchase quickly. They come in standard sizes and are sold in modular units. There are limited customization options, and their price is low.
Custom cabinets add value to your home and offer more storage space. Custom cabinet makers use durable materials and real wood. Furthermore, you can get cabinetry made specifically for your needs, unlike stock cabinets, which come in a standard design that's likely to lack functionality. However, custom cabinetry is also more expensive than stock cabinets. In the end, you'll likely end up spending more money in the long run. Check it out here