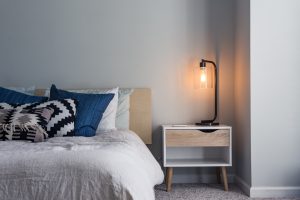 There are several types of Murphy beds to choose from. The type you choose will depend on your preferences and budget. When buying one, pay close attention to the dimensions, lifting mechanism, warranty and return policy, and whether or not you'll need to assemble it yourself. Also, remember that some models require a low-profile mattress.
Materials used to make Murphy beds can also make a difference in the overall durability and look. Some are made of solid wood, while others are made from particleboard or metal. Solid wood is the strongest option and tends to be more expensive. Metal Murphy beds are also often sturdy and often come with wood shelves or cabinets. Another important factor to consider when choosing a Murphy bed is its lifting mechanism. Some models use a spring-assisted opening mechanism, while others use a piston lift. A manual bed requires the user to exert a lot of force to raise the bed and is usually not ideal for smaller spaces.
There are two main types of Murphy beds. One is a wall-mounted unit and the other is a free-standing folding model. Both have advantages and disadvantages, but a high-quality model is compact and easy to use. You should also check for safety features, especially if you're buying for a child. Some models also come with additional storage space and a foldable mattress. Additional info
Wall-mounted Murphy beds are the most popular option. They are more versatile and require less structural damage. A wall mount system is also less permanent, requiring less drilling than a freestanding one. A wall-mounted Murphy bed is often placed against three wall studs. In this way, a stable foundation is established for the bed, and it can be moved if necessary.
Wall-mounted Murphy beds are best for small spaces. The open and closed configuration can help maximize space. Some have shelving or drawers that slide into the wall, and others are made for more permanent storage. Some are also available with a desk or a dining table. Compared to a futon, these wall beds are more comfortable and offer extra storage space. These models are perfect for apartment-size homes.
Wall-mounted Murphy beds can come with built-in storage. Depending on your needs, these storage areas can hold bed linens or other items. Some even have open shelves for displaying decorations. Some wall-mounted beds can double as desks, while others are designed to fold up and become a couch or desks.
Wall-mounted Murphy beds and traditional Murphy beds are similar in design. However, they have different lifting mechanisms. Some have springs and other mechanisms, while others use a wooden frame. Typically, a wall-mounted Murphy bed has springs while a floor-mounted version uses a piston. In addition, these beds have more metal components visible when they are in use. They are also easier to install.
There are many different types of Murphy beds, but the majority are made for queen-sized mattresses. If you have more than one person, you can choose a queen or king-sized model. A full-sized Murphy bed, on the other hand, is too narrow to accommodate a partner. Additionally, it's important to choose a Murphy bed with enough perimeter space to prevent mobility issues. This article
A murphy bed can be as simple or as complex as you need it to be. There are different styles, and each one has a different purpose. Some are built for a home office while others are meant for an entertainment area. A murphy bed can be used as a guest bed or to maximize space. Choosing the best style depends on your needs and preferences.
Most Murphy beds are made of real wood, but some are made with particle board or other materials. Some are even equipped with sofas, desks, and shelving units. Others are built with a frame made of metal, and some are made with springs. Regardless of your preferences, a Murphy bed will make your space more functional and beautiful. With a Murphy bed, your bedroom space will look much bigger than it actually is.